So many of my followers have been enjoying the new Udi's Gluten Free Soft White Sandwich Bread that I thought I would make a copycat recipe.  My husband really enjoys it for toast and for sandwiches. This bread is designed to make sandwiches in advance and the bread remains soft and fresh. It is wonderful to toast as well. (This recipe calls for Expandex.) Keep in mind that while this bread is denser compared to my other gluten free bread recipes, you can leave it on the counter and it will remain fresh for at least two days. Check out the texture in this video!
You may also enjoy this article, What is Expandex and How to Use.
The real Udi's new Soft Gluten Free White Bread Ingredients:
Water, Modified Tapioca Starch, Rice Flour, Rice Starch, Canola Oil, Tapioca Starch, Cane Sugar, Sorghum Flour, Egg Whites, Sugar Cane Syrup, Modified Cellulose, Cultured Brown Rice, Brown Rice, Salt, Yeast, Guar Gum, Xanthan Gum, Enzymes.
While I did use modified tapioca starch (Expandex), I did not use cultured brown rice or modified cellulose, which are all highly processed ingredients.
Invert Syrup and Brown Rice Syrup Substitute:
You'll notice that Udi's recipe calls for sugar cane syrup. It is the same thing as organic invert syrup. If you do not have access to either invert syrup or gluten free brown rice syrup, just boil 3/4 cup water with 3/4 cup sugar and cook until it reduces and reaches the consistency of syrup. Just use 1/4 cup. you can also substitute with agave syrup or honey.
Udi's Gluten Free Soft White Bread Copycat Recipe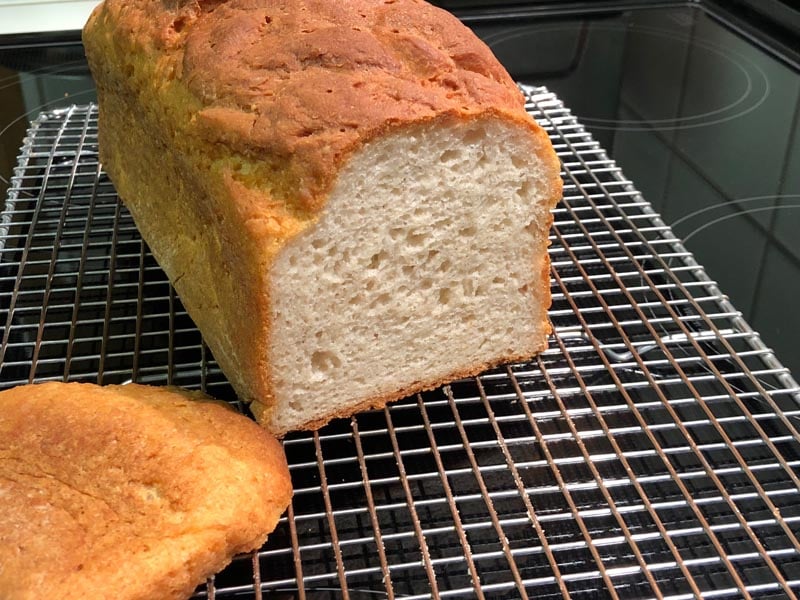 A copycat recipe for Udi's gluten free soft white bread. The bread is designed to last on your countertop or freeze for long-time storage.
Ingredients:
1/2 cup Expandex Modified Tapioca Starch
1/2 cup gluten free rice starch (Hol-Grain)
1/2 cup white rice flour
1/2 cup tapioca flour
1/2 cup sorghum flour
1/2 cup brown rice flour
2-1/4 teaspoons instant dry yeast
1-1/2 teaspoons guar gum
1-1/2 teaspoons xanthan gum (or additional guar gum for corn-free)
1-1/4 teaspoons salt
1/2 teaspoon baking powder (or less for less holes)
1 cup + 2 tablespoons water
3 large egg whites (1/2 cup) (Costco Organic)
1/4 cup neutral oil (grapeseed, canola, etc.), plus more for pan and dough
1/4 cup organic invert syrup (or Lundberg's gluten free brown rice syrup)
Gluten free flour, for dusting
Instructions:
Preheat the oven to warm or the lowest temperature possible, 170 - 200ºF. Oil an 8 x 4 x 4-inch loaf pan and dust moderately with flour. (I used superfine rice flour. You can use an all-purpose gluten-free flour as well.) Tap out any excess flour.
To the large bowl of  your stand mixer fitted with the balloon attachment, combine the dry ingredients (Expandex, rice starch, white rice flour, tapioca flour, sorghum flour, brown rice flour, yeast, guar gum, xanthan gum, salt, and baking powder.)
Add the water, eggs whites, oil, and invert/brown rice syrup, Beat on medium speed using the paddle attachment for 1 - 2 minutes or until thoroughly combined. Gather the dough into one ball and oil the top and sides. (I used spray olive oil.) Turn the oven off and place on the center shelf with the door open a crack. Allow the dough to rise until double in size, about 20 minutes.
Remove from the bowl and scoop out onto a lightly flour-dusted surface. Too much flour will create creases in the dough. Shape into an oblong loaf, trying to avoid making creases in the dough, and transfer to the prepared pan. (To correct any creases, just wet with some water, pinch closed, and smooth out with moistened fingertips.)
Allow the dough to rise until it reaches the top of the pan. If it begins to crack open it is ready to bake.
Preheat the oven to 400ºF. Bake the loaf for 1 hour, tenting when the crust reaches your desired color. After the hour, turn the oven off and allow the bread to rest with the door closed for 30 minutes.
Immediately, transfer the loaf to a wire rack to cool. If desired, you can butter the top of the bread. Allow the bread to cool completely before slicing. Prior to cooling, the bread will be gummy.
Slice the loaf using an electric slicer, electric knife, or serrated knife. Store in a zippered freezer bag on the countertop for up to two or three days or freeze. After a half a day on the counter, the bread is even better.
© Copyrighted 2009 - 2016. Wilkins Publishers. All rights reserved. All content, photos and images are copyrighted by us or their respective owners. You must obtain permission by their owners before using any of them.