Last Updated on
You can serve these ribs as they are (boneless) or you can shred the meat and use it for a pulled pork sandwich because they are fork tender! You will not need a knife for these babies! I'd like to use the term "fall off the rib tender" but they are boneless. I enjoy pulled pork sandwiches with coleslaw atop a gluten-free roll and additional BBQ sauce. Since I am allergic to tomatoes I use my quick and easy homemade gluten-free chipotle sauce and Worcestershire sauce. You may consider using my homemade gluten-free barbecue sauce recipe that I created for my husband which is lower in sugar by using agave syrup and Worcestershire sauce instead of brown sugar. It's very flavorful and has a hickory taste! Despite my tomato allergy, I couldn't resist taste tasting the sauce while cooking! Oh, how I miss I good barbecue sauce!
Also check out my Gluten Free Mexican Pulled Pork Tacos Recipe.

UPDATE: I now have a wonderful gluten-free tomato-free barbecue sauce recipe. If you like tender baby back ribs you'll love these, too!
Tender Gluten Free Pork Ribs and Pulled Pork Recipe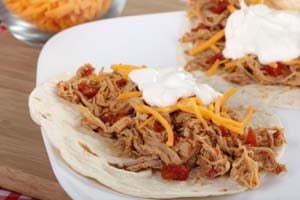 A flavorful pulled pork recipe, made naturally gluten free. Use baking or crock-or method.
Ingredients:
For the Pulled Pork

3 lbs. boneless country style pork ribs, with excess fat removed

For the Marinade

1 small yellow onion, cut into small chunks
2 celery stalks, cut into chunks
5 small cloves whole garlic
1 Tablespoon chili powder (or more if you wish it to be spicy)
Fine sea salt and pepper, to taste
Instructions:
Place all ingredients listed above, except for the pork, in a food processor and chop finely.
Place ribs in a baking dish and spread the above vegetable mixture on top; cover and refrigerate for 4 hours to overnight.
Preheat oven to 350°F.
Place baking dish in oven; fill to about half full with water; and cover with aluminum foil.
Cook for about 2 hours and until fork tender.
Tips
For crock pot method, cook on high up to 4 hours or low for up to 8 hours. Stop cooking once meat begins to fall apart.
Top ribs with gluten free barbecue sauce; bake at 350°F for about 5-10 minutes, or shred meat and use for sandwiches, enchiladas and more.
You can also cook this dish in a crock pot, but it will be higher in calories and cholesterol because the meat will sit in the grease. Another way of making this lower in calorie and cholesterol is to pre-boil the meat to remove the fat.
Instead of using country-style ribs you can use a pork roast with or without the bone. If you use a boned pork roast it may cook faster, as the bone stays very hot and cooks the meat from the center.
If you make this a day in advance you will be able to skim off the hardened fat, making it lower in cholesterol and calories.
© Copyrighted 2009 - 2016. Wilkins Publishers. All rights reserved. All content, photos and images are copyrighted by us or their respective owners. You must obtain permission by their owners before using any of them.
Serving Suggestions